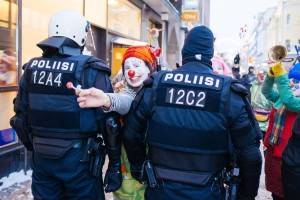 Two rival groups patrol the streets of Tampere, Finland. One is an anti-immigration group called the Soldiers of Odin. The other is a collective of clowns, the Loldiers of Odin, though the Loldiers argue that they're both clown patrols. The first group began their patrols late last year in a town near the Swedish border, carrying signs saying "Migrants not welcome," Reuters reports. The Soldiers of Odin, named after the Nordic god, have been criticised by the current conservative coalition government for attempting to play vigilante. That doesn't mean that they can't be intimidated, however, like when a group of clowns surrounded them in Tampere Saturday evening.
Loldiers of Odin
The Loldiers, a portmanteau of Soldier and LOL, posted a video of the scene in which they sang and danced around the other patrol group. The Soldiers of Odin members appear huddled in a circle, before hastily walking down the street. "We told them we want to patrol the street again and again with them, but they went home! So we sung them farewell song after that. Maybe they had to go to sleep?" Daffodil the Clown told CBC News in an email.
The clowns began patrolling in response to the Soldiers of Odin, who in the last half year have grown to at least five cities throughout Finland. "The night was dark and full of terror, we spread some fun to correct this error!" said Daffodil.
A member of the Loldiers mentioned that they assumed it was part of a larger clown trend. "Even though people laughed at us, people laughed way more at them, so they must be the better clowns," Pelle Satatuhatta told CBC's As It Happens. He also mentioned the Soldiers of Odin had only recently come to Tampere.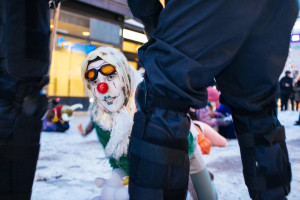 Many of the Loldiers walked about the streets of Tampere wearing a mixture of pyjamas, bathrobes, red noses and white face makeup. One of them carried a flag with the words "Sieg Fail," written on one side, and a disjointed swastika on the other. In the video, a man with a Viking helmet called himself Odin and declared, "The streets are now safe for everyone!" Meanwhile, dressed entirely in black, the Soldiers of Odin did not appear to think the clowns were all that funny. When the Loldiers catch up to the group, they huddle together before storming away. As for whether they plan to try to keep joining their more dangerous looking counterparts, the Loldiers say that they'll come back around when people need to be cheered up.
"We will be anywhere any time you never know, we come as a surprise," Daffodil said.
Source: CBC news