In this article, we publish the short film Outside the Box, developed as part of the project Re/presenting Islam on Campus.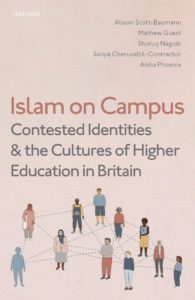 This research project was directed and developed by the School of Oriental and African Studies (SOAS) during the period 2015-2018, and its main results were published in 2020. Its goal was to analyze the way in which Islam and Muslims were perceived in the university campus in Great Britain. The results show a lack of communication and debate on Islam, which directly affects Muslim university students and that reproduce the prejudices and lack of knowledge the British society as a whole has on this religion.
The results have been published in an academic report under the title Islam and Muslims on UK University Campuses: perception and challenges. At the same time, its main ideas were gathered in this short film, Outside the Box, developed by PositiveNegatives.
PositiveNegatives is a company specialized in producing animations and literary comics about contemporary social and human rights issues, adapting personal testimonies into art, education and advocacy materials.
Re/presenting Islam on Campus was funded by the Arts and Humanities Research Council (AHRC) and the Economic and Social Research Council (ESRC), based at SOAS, in collaboration with the University of Coventry, the University of Durham, and the University of Lancaster.